Welcome to the first post of a new segment we've created called Seoulbeats' Spotlight.  In the Spotlight, we'll be highlighting the accomplishments of veteran and up-and-coming celebrities in Korean entertainment making waves in Hallyu. We'll be looking at actors, comedians, MCs, musicians and idols who are deserving of some extra love because of their exemplary efforts in their field of choice and in promoting the Korean Wave.  Who else would be deserving of being the subject of our first Spotlight right now than Psy, whose record breaking "Gangnam Style" has taken the world by storm and whose MV has now surpassed 400 million views on YouTube.? We hope you enjoy our new segment and now, without further ado, here's a little spotlight into Psy's world.
When "Gangnam Style" blew up, the question on everyone's lips was "Who is that?" As in, who is that crazy Asian dude in the bowtie riding an invisible horse and screaming at girls' butts? To the average person in a Western society like the U.S., Psy is some "exotic' mix of William Hung, Weird Al Yankovic and the "Numa Numa guy;" to K-pop fans, he is on the margins of the genre, an artist who does not necessarily fit the definition of the genre, but has come to represent it on the global stage.
But that is the Psy of now; this success that he enjoys was not instantaneous: it is well known that Psy has been making music for more than a decade, but how has that experience carried over to "Gangnam Style"? Has his style changed significantly over time in any way, or merely evolved? When did Psy move to YG and what kind of music was he making before then? These are the kind of questions most K-pop fans would be unable to answer off the top of their heads (including this writer), so perhaps now is a good time to take a look at Psy's career — a retrospective, if you will.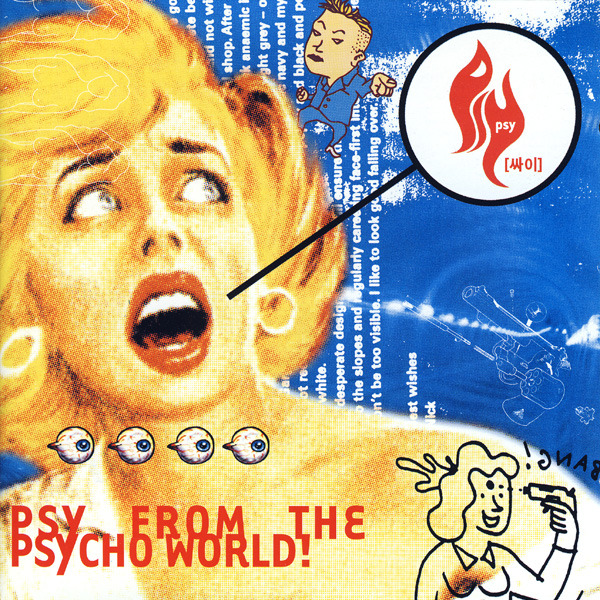 Gangnam native Park Jae-sung never intended to be a singer; as he relayed during his latest appearance on SBS Happy Camp, the only thing he really wanted to do was enjoy himself, going so far as to trick his parents out of the tuition fee paid for Boston University to fuel a partying frenzy (this is why no one at Boston remembers him–he never actually went there). It was during this time, though, that Park realised that what he wanted to do was to entertain people, and taking note of the rise of hip hop at the time, enrolled in the Berklee School of Music. Park had initially intended to become a songwriter, but after none of his claimed 50 or so demos received a response, he decided to perform his songs himself : and thus, Psy was born. He joined LNLT Entertainment (who, hilariously, signed him before they'd even seen his face) and debuted in October 2000 with his first album, PSY from the Psycho World. The promoted single off the album was "새 (Sae)", which means "bird" in Korean. The story behind the song's title is an intriguing one — K-pop song translation site pop!gasa, which is currently translating Psy's older songs (and answering my prayers in the process), explained that "jo" is also a word for bird in Korean, and that saying "jo dwessuh" sounds similar to the phrase "jot dwessuh"–which means "I'm f***ed." In order to avoid censorship, Psy substituted in the synonym "sae," so that the original meaning was retained without offending sensibilities. This phrase "sae dwessuh" has been translated to mean a more euphemistic "I'm screwed," and features in the lyrics for "Bird:"
 What are you asking me for? Asking for my soul? Want me to be strong? What do you want from me, huh?
In one moment, I am screwed – you are a beautiful Venus
You're wishy-washy, coming to and fro – you play with me day and night
In one moment, I am screwed – you are a beautiful Venus
I only looked at you but you dumped me – I'm completely screwed
[youtube http://www.youtube.com/watch?v=xRSpFOqIEio&w=560&h=315]
As can be seen from the lyrics above, "Bird" calls out a shallow woman, one Psy sees as caring more about herself than about the feelings of others. "Bird" samples Bananarama's "Venus" (which may be behind the "Venus" reference in the chorus) and is a very blunt song — in fact, Psy was fined for "inappropriate content" — but that bluntness, along with Psy's own unique (and now signature) performance style was seen as a breath of fresh air for the Korean music scene at the time, and audiences really enjoyed it, if this live performance is any indication.
Psy's second album was Ssa 2 ("ssa" meaning "cheap"), of which the lead tracks were "Sae 2" and "Singosik," featuring the same kind of simple instrumentation heard in "Sae." Released in 2002, this album was embroiled in controversy when Psy was arrested for smoking marijuana before he could properly promote the album on television. Following the scandal, Psy laid low until he was spotted on the street by a reporter filming a story on home support for the Korean soccer team during the 2002 World Cup. Psy was one of the supporters gathered on the street, draped in the South Korean flag, and the short interview he gave became his reintroduction to the public eye, paving the way for another comeback.
That comeback was in the form of Psy's third album, 3 Psy. "Champion" was the lead single, and here we can already see differences from "Bird." It's more up-beat and lively, for one, in contrast to the more sinister feel of "Bird". Even the lyrics are in stark contrast, with "Champion" (which samples the Beverly Hills Cop theme) talking up the listener and praising them for enjoying life freely:
 All of those who truly know how to enjoy
You are the champions of this nation – ha!
On a side note, there was recently controversy when international viewers, eager to experience more of Psy after watching "Gangnam Style," were upset with the language in "Champion". This is because the chorus has many instances where the word "니가", which means "you are" (as in, "you are a champion") is said; "니가" is pronounced as "ni ga" and it does sound like a certain racial slur. This would have been a hurdle that many American and English-speaking K-pop fans would have als encountered, though, and understanding and accepting the differences between the two terms is the best way to move past it.

[youtube http://www.youtube.com/watch?v=DTT9MT0rMhU&w=560&h=315]

Psy took the next two years off to complete his military service, using his credentials in data processing to serve in an alternative service program that did not involve active service, though he was still deemed fit for it. Following his discharge, Psy held his "All Night Stand" concert in 2005 and married Yoon Hae-yeon, his girlfriend of three years (Sorry Chelsea Handler, he's taken), Psy returned the next year with fourth album 싸집 (Ssa Jip, or Cheap House), which also had a repackaged version featuring a DVD of performances from "All Night Stand." The MV for track "아름다운 이별2" featuring COOL's Lee Jae-hoon, took a more earnest turn, featuring behind the scenes footage of Psy preparing for his concert shows. the lyrics also reflected this more pensive Psy.

[youtube http://www.youtube.com/watch?v=X4xZJAP-Ais&w=560&h=315]
Dear you…
When did you say yesterday that when tomorrow comes, you'll be leaving me?
If I knew I had to let you go like this, I would've treated you better (treated you better)
It seemed that the lyrics could have been referring to Psy's future, as well. Life seemed to be going well, but around the time of the birth of his twin daughters, Psy was mired in controversy again. He was deemed to have not served out his military service properly, failing to fulfil his duties, and was ordered back to the army, this time in active duty. Psy appealed but lost, and so re-entered the army — a rare occurrence in South Korea.
It was following this 20-month stint that Psy, folowing his wife's suggestion, signed with YG and released his fifth album, PSYFIVE. The MV for lead track "Right Now" is a return to the more humorous style Psy had developed, but not without changes. Psy's rapping, for instance, is different from his prior releases (this is less apparent on the non-promoted tracks), and his lyrics are now more family friendly, yet defiant than ever:
For eternity or in my lifetime
I'm not going to be discouraged
I'm not going to surrender
You know what I'm sayin?
The overall MV is much more colourful and has a higher production value, something to be expected from a moneyed company like YG. The colour theme especially is something that can be seen in recent YG MVs like G Dragon's "Crayon," 2NE1's "I Love You" and Epik High's "Don't Hate Me." The "Right Now" MV also has a "female" counterpart, featuring actress Seo Woo, for some reason: my guess is it may have served as a back-up in case Psy's appearance didn't float with the market (not only because of physical appearance, but also due to his scandals).

[youtube http://www.youtube.com/watch?v=UmHdefsaL6I&w=560&h=315]
 And that brings us to part one of Psy's sixth album, Psy's Best Sixth, and "Gangnam Style." Fatouma has already said everything that needs to be said in her MV review, and it does not bear repeating. Suffice to say though that it is in the same vein as "Right Now," but it also brings back some of the black humour seen in Psy's earlier works. It is fascinating to go through Psy's works and see the progression of his career from getting fined for swearing to becoming the big viral phenomenon he is today (and getting bans uplifted in the process). Psy may not have had a perfect career run, but that just makes his success all the more remarkable.
What are your thoughts on Psy and his career thus far? Do you have a favourite song from his earlier albums? Let us know in the comments below!
(The Chosun Ilbo [1][2][3], Generasia [1][2][3], Hanteo [1][2], JpopAsia, pop!gasa [1][2][3], Nate[1][2][3], SBS via Imumbaistudios, YG Heaven)