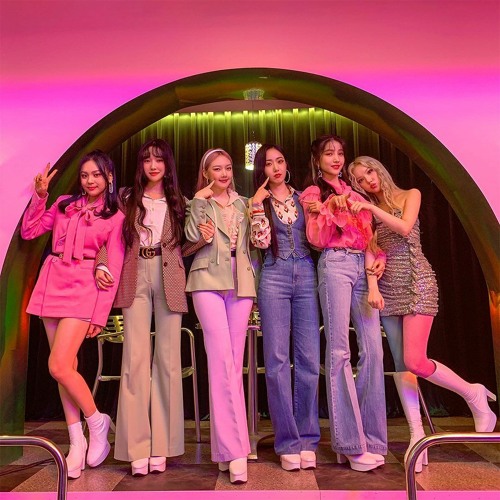 Known most for their bright orchestral pop title tracks and challenging choreography, Gfriend was a girl group with humble beginners that eventually became a household name among 3rd generation K-pop. Gfriend's legacy lives on, and were quiet trendsetters for the girl groups that came after them, not only popularising synchronised choreography but also x2 speed dance challenges that have become a widespread staple in idol variety shows.
In their later years, the group saw a shift towards a mature, more sophisticated image and sound, spawning hits such as "Apple" and "Mago". Then, last May brought about an abrupt news that the six-membered group had disbanded upon the end of their contracts, parting ways cleanly from their label Source Music Entertainment, which now sits under the Hybe umbrella of agencies.
While Sowon has opted to pursue an acting career, Yerin and Yuju signed with Sublime Artist Agency and Konnect Entertainment (owned by former WannaOne member Kang Daniel) respectively. Yuju has since made an entirely fresh start with a solo debut that bears no resemblance or connection to Gfriend's signature sound.
The remaining three Gfriend members, Eunha, SinB and Umji, signed on with a new agency, BPM Entertainment (also known as Big Planet Made), and was announced to be debuting as a trio under the name Viviz. It is notable that while Viviz is the company's first group, BPM has since raked in an impressive artist lineup — former SISTAR member Soyou, former Hotshot and WannaOne member Ha Sungwoon, Huh Gak and Samuel and are definitely one to look out for. After months of anticipation, Viviz make their debut with "Bop Bop" and accompanying mini album Beam of Prism.
In classic K-pop girl group fashion, the music video features heavily saturated yet cool-toned color grading on a bright, colourful palette. The costumes, styling and makeup bring out the best of the girls' beauty here, and the outfits are chic, retro and flattering. A classic styling approach to trios is to have similar outfits with each member wearing a representative colour. In Viviz, Eunha takes purple, SinB blue and Umji red, and it would be interesting to see if this is something they continue following up with in future comebacks even as their concepts change.
Here, the editing of the music video is deserving of praise. It doesn't employ any surprising cuts or camera movements, but instead approaches its editing with a satisfying sense of smoothness and completion — switching between wide shots and close-ups exactly when viewers expect it to. It is also great that all three members are given fair amounts of screen time and lines, especially how balanced Viviz are skill-wise.
It shows when music video directors wrongfully value a narrative or an aesthetic over the core purpose of a music video, which to elevate the music. Some K-pop music videos end up being a showy display of an aesthetic collage of clips that do not play off the music.
The team behind "Bop Bop" understood the assignment, and the storyboarding and shot planning masterfully add touches of interest through the use quirky yet fitting shots to match the changes in the song's rhythm and beats (falling coins and flowers, pressing of neon buttons, revving up of the motorcycle). It is a delight not immediately noticeable, but make for an enjoyable and breezy watch.
The sets are also gorgeous, though rather random, and somehow manages to be both quirky yet cliched. There is a news anchor room, a lobster restaurant, a space shuttle, a motorcycle shoot, and suddenly they're up in space during the song's climax. Explosions happen and Viviz party around in a now-crowded room, all as the song reaches its end. The end product is a confused mess of scenes that look like they were taken from 5 other girl group music videos, but story-line is the least of this video's concerns. After all, not every music video needs to be part of a complex, larger cinematic lore like with SM Entertainment groups, or even have a story line. Some are happy to just be a light-hearted, feet-tapping 3 minutes of "Bop Bop".
However, for a song encouraging its listeners to "feel the music bop bop", its video is a missed opportunity for more wackiness or fun that leaves a lasting impression beyond its engaging viewing time. Be it through campy costumes or comedic shots that show the members' personality, it is missing a surprising visual element that is necessary to make a mark for a debut.
The Viviz members look younger than they are, but the way they ooze with charisma and reassured confidence easily give away their years of experience. Performing with the pride of an established artist, it is immediately apparent to viewers that they are are not looking at a rookie group.
The choreography also works in their favour, with a healthy balance of an increasingly mandatory Tik Tok-challenge worthy portions, but with bits of more interesting flair sprinkled throughout during the song's more musically interestingly portions. Viviz reliably perform this choreography with a familiar classiness and cleanliness that Gfriend was loved for, but it feels like a fresh reboot with only half its members. Additional dancers were added to fill up the stage space, and the dancers display a strong snynergy when performing with the Viviz members.
"Bop Bop" feels like a fittingly cutesier follow-up of Gfriend's final disco-esque title track "Mago", especially when considering that Viviz consists of the Gfriend's younger members. However, "Bop Bop" unfortunately does not reinvent the wheel, merely continuing the preexisting retro and city pop revival in K-pop that has seen a larger prominence in the last two years.
With its song title, it was a missed opportunity not to explore less popular genres, specifically Bop (more commonly known as BeBop), a subgenre of Jazz. Nonetheless, with how important yet polarising debuts can be, "Bop Bop" does a commendable, albeit safe, job of establishing a new beginning for its seasoned members, all while not alienating fan expectations musically.
The track's highlight is definitely its mysterious and dramatic pre-chorus, where it takes a popular approach of slowing down, all as the orchestral instrumentals associated closely with Gfriend are introduced. The whimsical quality of the strings make for a nice constrast for when the deep bass of the chorus drops after a momentous pause. Despite how irrisistibly catchy such choruses can be, it can feel overdone because of how lethargic it can sound when lazily incorporated. However, it works nicely here when paired with a more energetic second part of the chorus that unleashes the full force of its retro instrumentals.
The song employs several songwriting tricks that never fail, from carrying the bass from the chorus through to the second verse for added momentum, and the inclusion of a celebratory post chorus to end the song on a high.
Thankfully, the track also opts for a fully-sung chorus instead of relying too heavily on the repetitive titular "Bop Bop" hook, allowing the members' vocals to shine. When it comes to Gfriend, main vocalist Yuju and lead vocalist Eunha understandably got most of the praise vocally. But with lesser members and more time to showcase their abilities in Viviz, SinB and Umji show they are also competent at carrying more challenging vocals parts, and highlighting the natural timbre of their voices makes it the best they have ever sounded.
As a group with their reputation and calibre, Viviz definitely could have afforded to be bolder and more inventive with their debut sound. But "Bop Bop" is still solid and pleasant as it gets, and will be a breath of fresh air for girl group fans who are looking for something besides girl and teen crush that is bright without being too cutesy.
With the state of recent K-pop releases, this sleek yet fun simplicity is more welcome than you'd think. While "Bop Bop" will unlikely become a groundbreaking, viral hit, it is a satisfying pop track that starts new milestone of the members' careers on a solid footing. Debuts sought out to introduce a group and in most case their sound, but many groups make huge departures from their debut sound in their later years.
Viviz's "Bop Bop" acts mostly as proof that the trio has what it takes to stand on their own and pull anything off, but it also teases endless possibilities for the future. As they have manifested for themselves in their music video, that makes "Bop Bop" quite the successful debut in its own right. It is clear Viviz are only just getting started.